A greater Houston area custom kitchen and cabinet shop
Jim Farris, a native Houstonian, with a background in Fine Art, started his own custom cabinet shop, "Jim Farris Cabinets" in 1976. He offers a gamut of woodwork using domestic and exotic woods, veneers, and laminates
His cabinetry features both traditional and contemporary styling for residential or commercial use. He stays updated in trends, styles and construction methods. His motto has always been "Quality, Because We Care". Believing there will always be a market for superior skills and craftsmanship, he strives to produce an exceptional product.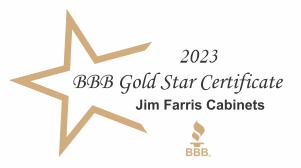 ---
Jim does this along with a team of skilled craftsmen that work together in a fully equipped 8,000 sq. ft. shop. He builds, finishes, and supervises construction of his cabinetry for that in-house quality control that his customers have come to expect. Jim also offers computerized design service. He works with architects, designers, and individuals to make their ideas form and function with artistic beauty.
Jim Farris Cabinets is all about the design, engineering, fabrication, finishing, delivery and installation of high-end custom cabinets and custom furniture for both residential and commercial use in the greater Houston and surrounding areas.  We really shine when it comes to projects that are special, difficult, unique, artistic, of the highest quality, or require special finishes.  The difference that sets us apart is in the attention to the details and craftsmanship.  High-end custom kitchen cabinets are our bread-and-butter, but we do so much more.  This includes custom bathroom cabinets, custom vanity cabinets, custom home office furniture, custom entertainment furniture, custom bookcases, storage cabinets, custom wine rooms, custom beds, handcrafted furniture, custom conference tables, custom dining room tables, custom woodwork, exotic veneers, Mid-Century Modern design, high-gloss cabinets, ultra-matte cabinets, custom finishes, and on and on.
YOU NO LONGER NEED TO WONDER WHERE TO GET QUALITY DESIGN, FINE CUSTOM KITCHEN CABINETS, CUSTOM FURNITURE, AND SO MUCH MORE!