Custom Office Furniture and Cabinetry Houston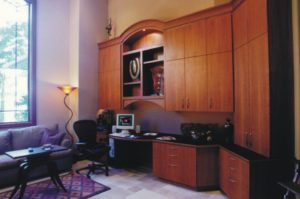 Your home office. Whether it's your livelihood or a hub of operations for your home and family, it needs to be equal parts functional, practical, efficient, and—hopefully—beautiful.
The truth is, you don't have to compromise efficiency for style. Custom built-ins are not just for the living room. They can turn any space, any room into a thing of beauty. Home offices can be as simple as a built-in desk, an out-of-the-way place to pay bills, keep your calendar updated, or for the kids to get their homework done. All of these essential tasks can be made easier with a well-designed custom home office space, one that fits seamlessly into your home design.
Custom office storage and organization
Computers and technology are mandatory these days, but they don't always fit well into your design aesthetic. Custom-designed cabinets and custom-built bookshelves give you plenty of space to house all of your most important files and documents, books, technology, and more. Whether you need to re-imagine your current home office space or create one from scratch, Jim Farris Cabinets can provide you with a wide range of options to help you complete your vision.
Beyond bookshelves
Where home offices are concerned, built-in bookshelves are just the beginning. Custom bookshelves help you organize and clean up your work area and provide discreet storage for all of your computers and electronics. With dedicated space for your computer towers, cables, and other electronic components, there won't be any unsightly cables to look at or trip over. Everything will be neatly tucked away leaving nothing but clean lines that seamlessly integrate into your home design.
Modern or contemporary
Custom built-ins and office furnishings can be sleek and modern or classic and traditional. We work with a virtually endless range of materials and finishes to bring your vision to life. From the warmth of hardwood to high-gloss laminate and glass, gorgeous veneers and more, we can design a home office solution that will make sense from every possible angle.
Challenging spaces require a custom approach
If you are thinking about putting a new office into your home but you only have a tiny corner of your kitchen, hallway, or attic to make it work, custom built-ins are the answer. We use a scientific approach to home office cabinetry design, leveraging decades of experience in to ensure an innovative result that you will love.
Some of the solutions we bring to the table include:
Computer-aided design
Custom built-ins especially for media
Built-in computer desks
Small, challenging or odd-sized spaces? No problem!
Motion cabinets
Sliding bookshelves and cabinetry
Concealed doors, drawers, and media storage
Accommodation for curved walls and cabinetry
Match your home's interior design
Lighting design
Recessed lighting, task lighting
Functional engineering
Our process starts with us sitting down and getting to understand your vision of the end result. Even if you don't know exactly what that is, once we know what you need to accomplish, we will offer some great ideas for you to consider. Our experience, our creativity, and our insight will help you realize the home office of your dreams, one that delivers on all counts: design, practicality, and functionality.
Design-build in action
One of the many benefits of Farris custom built-ins is that we control every process from design right through to manufacturing. We work with Houston's most talented artisans and finish carpenters to ensure that your results exceed every expectation. No matter how simple or complex, how big or how small your new office might be, we bring all the elements together to ensure a result that you can be proud of.
We leverage a design-build approach to each and every project we take on because we know that it is the best way to ensure that our projects are executed smoothly and efficiently with a minimum of conflict and delay. We work hard to take the stress out of your renovation projects. We do that by simplifying the process from start to finish, giving you the peace of mind of knowing that your new custom office build will be completed on time and on budget.
Call us today to talk about your Houston home office ideas. We'd love to show you how we can help.