Custom Cabinets Houston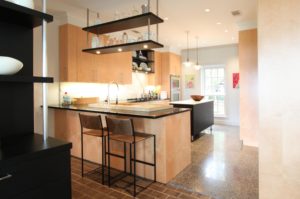 In the world of custom cabinets, craftsmanship and personal service are the primary differentiators.  You choose custom cabinets in order to deliver on personal style, creativity, and fit – it's a situation where cookie-cutter solutions just won't do.
Custom cabinetry provides you with a one-of-a-kind look that simply won't be replicated in other homes.  It is the secret ingredient that brings your vision to life, whether you are installing custom cabinets in your kitchen, living room, bathroom, office or any other room in your home.
Kitchens, especially, are a focal point for our daily lives.  It's the one room in the house that everybody congregates – arguably, it is the most important room in the entire house, bringing family together and creating memories that transcend the ages.
Whether you are updating your kitchen or your entire home, new cabinets are a must.  Custom cabinetry can deliver on a wide range of wants and needs, including:
Custom cabinets expand your storage capacity
Custom cabinetry can provide you with new storage options such as closets, dressing rooms, pantries, serveries, and more.  Functional and beautiful built-in cabinets will give you extra space to store seasonal items, tools, cookware, dishes, and so much more.
Custom cabinets update the look and feel of your home
If your kitchen or other rooms are looking dated, new custom cabinets can give you that brand-new look and feel you've been dreaming of.  With a virtually endless array of cabinet designs and finishes you can choose from, your home will be the showpiece of the neighborhood.
Access to state-of-the-art technology
Built-in custom cabinetry will streamline the look of your kitchen as well as all other rooms in the home.  Advances in cabinet design include drawers and doors that open and close with a wave of your hand, "invisible" doors that open with a touch, and in the kitchen, biometric drawers to keep your sharp knives safe from children, built-in freezer drawers, and so much more.
Increase the value of your home
If you are updating your home because you are getting ready to sell, custom cabinetry can provide great curb-appeal for potential buyers.  Take advantage of the availability of exotic finishes and details to complete your interior design.
Provide more functionality
Today's busy lifestyle requires the home to be as practical and as functional as it can be.  Custom cabinetry delivers on all accounts, allowing you to do more with the space you have without compromising aesthetics.
Add practical features
Many older homes were not designed with today's needs in mind.  This may mean you have had to deal with a challenging space, working around the limitations in space until you are simply at your wit's end.  Drawers in the wrong places, not enough cupboard or closet space, inconvenient or inadequate storage … and the list goes on.
Accommodate odd-sized and shaped rooms
Custom cabinetry accommodated just about any room size and shape – even when you're dealing with odd angles, high ceilings, or challenging square footage, your custom cabinet design can make the most of it, transforming your once frustrating space into something that really works!
Extend your interior design
Your home design is a reflection of who you are, and it should support your lifestyle in a way that satisfies your need for order and design at the same time.  Custom cabinetry delivers the design sensibility you want while delivering convenience and value.
Support your lifestyle
Today's busy lifestyle requires flexibility and convenience.  Having storage solutions that will support those needs will make life better on so many levels, allowing you to clean up and declutter your interior spaces and give yourself some breathing room.  If you are thinking that your home is getting too small, custom cabinetry might be able to change your outlook.
Passion, craftsmanship, and quality in Houston
Our passion for beautiful custom cabinetry is legendary, surpassed only by our dedication to your complete satisfaction.  We are committed to quality in everything we do and that includes every detail from planning to installation and finishing.  We use only the highest quality materials to ensure the best possible result, giving you the peace of mind in knowing you have chosen the best.
Call today to set up a home visit or drop by our showroom for inspiration. We would love to talk to you about how we can transform your home with custom made cabinets.