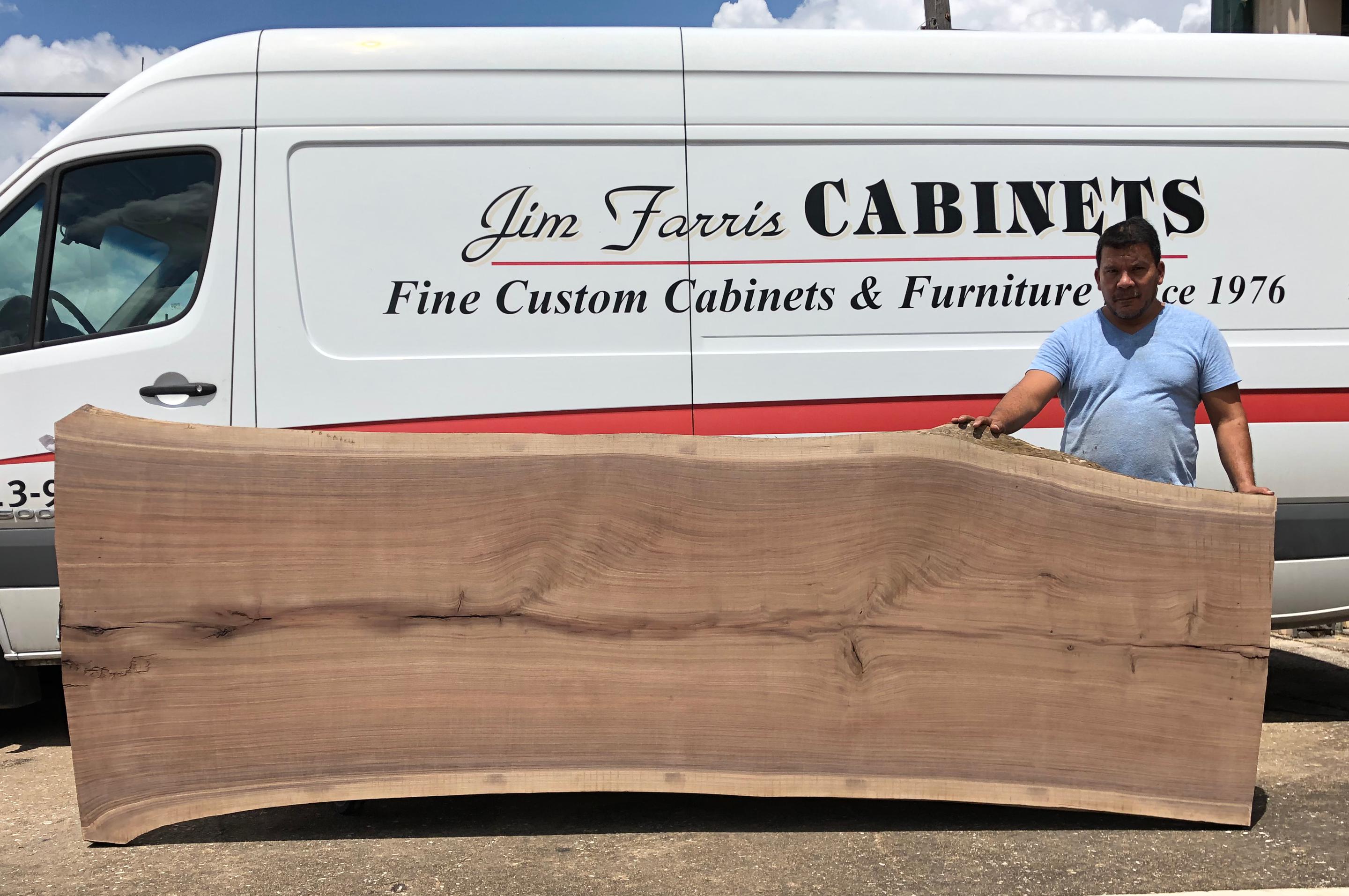 Back around the end of July I received a call from a potential new client about several projects for their new home (still under construction).  Cathy was a referral from one of our repeat clients.  I met with her at the jobsite and went over what we could do for them.  One of those projects was a live-edge walnut counter top for their wet bar area.  The new counter would have a mitered corner and the live-edge facing the game room.  I was particularly excited about this portion of the job.  I had recently found out that one of my suppliers, Clark's Hardwood Lumber was now carrying live-edge slabs.  On the way back to my office, I stopped and looked at their walnut.  It looked like they had a piece that would fit the bill for this project.  I measured and photographed the slab.  This board was nothing to look at other than it was very big!  The face-up side had several big, open knots and the bottom side was extremely dirty.  It really takes a special trained eye to see the potential in an old dirty piece of a tree!
I gave Cathy a report and sent her a photo of the walnut slab that I have put on hold at Clark's.  I also sent her a photo of a different slab of walnut.  This photo showed the potential of the dirty slab.  After I had secured a contract, I purchased the $2,400.00 walnut slab.
In the shop, Jose hand-leveled the giant slab and proceed to fill the drying cracks that were down the middle of the slab.  After the bark had been stripped off, he and I stood it up out in front of the van so I could get a good straight-on photo.  I took that photo to my computer and carefully planned how we would cut it up.  After John carefully cut the miters on the panel saw we pushed the joint together.  It fit perfectly on the first try.  John machined mortice and tendons for the joint and carefully glued it all together.  I shaped the live edges at the miter to blend and give it a bit of a soft corner.  It came out looking very natural.
After a good hand sanding Jose started on the finish work.  Our client wanted a very natural look but wanted the wood protected against moisture and ware.  We opted for ML Campbell Krystal in a satin sheen.  Krystal is a 2-part, catalyzed finish that offers superior moisture and chemical resistance.  Jose sprayed 4 thinned coats, sanding in between with 320X sandpaper.  Our process turned out a finish that did exactly what our client was hoping for!  I can't wait to see it all installed.
Jim